If you are an independent professional or a small business owner, you might be trying different ways to get more clients. However, you can build strong relationships with your present clients to inspire them to consider you for their next projects. If they do not require your service anymore, they can suggest their colleagues and friends. To help you more, following are some proven client relationship building skills.
Client Relationship Building Skills
Outstanding Communication
Effective and timely communication needs to be your priority. You will have to develop communication with each and every client. That will certainly demand your time. However, it will enable you to create a trustworthy environment and will inspire your clients to spend on your business.  Also, the satisfaction of your client is important for the success of your business.  
Develop a Positive Approach
Both small businesses and independent professionals take a lot of responsibilities to reach their clients and to make profits from their businesses. All the responsibilities can make them stressed.
 But clients will not like to work with a stressed professional. Therefore, you should always show a smiling face and a positive approach.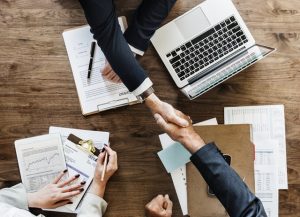 Acknowledge the Contribution
You should acknowledge your clients on a personal level for their contribution. The extent of the personal connection will depend on your industry type, client type, and your personality.  For example, if your client has young kids, you can ask him about his kids to create a friendly environment.
Share Your Experience
It is important to share the areas of your expertise and experience to enable your clients to take the right decision. Without knowing the details, your clients might find it hard to decide.   Sharing your professional skill and experience will help you in many ways. The client can take the decision with a well-informed mind. Also, it will build a trust important for the success of any business.
Be Open  
If you want to build a lasting relationship with your existing clients, then you will have to showcase your talent to prove yourself as an expert. That is possible with an open mind and healthy conversation. You should always engage with a friendly conversation to help your clients to know more about your skill.  It will enable them to share their demands.
Satisfactory Result
The best way to create a strong relationship with your clients is to work best to exceed all their expectations.  You should not set any unachievable goals and at the same time, you should not promise anything that you cannot do. Make everything crystal clear and try your best to offer a flawless and timely job.
All the clients are different. You cannot follow the same strategy to build a strong relationship with all of them. You should understand each and every client and then plan the steps accordingly.  Your objective is to build a lasting and healthy relationship.  You can try all the possible ways to achieve the end result.
These are a few client relationship building skills. You can try these for any type of business. The key to success is healthy and open communication.